The story of Gulick's pharmacy company started in 1846 when James A. Sconce founded a shop selling foods, books, and medical stuff. It's a bit strange nowadays but in those times, it was quite common to sell so different things in one place.
Four years later, half of the business was bought by Dr. William W.R. Woodbury so, the store was renamed to Sconce and Woodbury. However, it was not the last time that the shop had new owners. In 1853 Sconce left the business but two other partners joined creating Woodbury and Co. Yet this partnership lasted for only 4 years, after which Woodbury took the reins himself.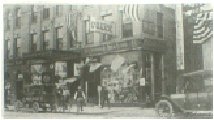 The shipment of goods to the drugstore was quite a tricky task at that time as first they were transported by river or canal to Perrysville and Covington, IN. Next, the merchandise had to cover a significant distance by wagon to finally reach the shelves. So, it was a tough business.
In 1905, Dr. Woodbury died, and his two sons took over the drugstore. Since 1905 a grandfather of, the now owner, Tom Gulick, Thomas A. Gulick worked there as a pharmacist for 10 years. He left the job in 1915 to return and buy it 20 years later.
The drugstore got to its present owners in 1953, but it received its name "Gulick Pharmacy" only in 1979 when it was merged with another pharmacy in a building at 912 N Vermilion St. where it still works. The same year a new project of the Gulick family started – Illiana Medical News and Equipment – a pharmacy company, which provides all kinds of medications and medical equipment to people fighting for their health.