PrescriptionHope.com Intro & Overall Rating
What is PrescriptionHope.com?
PrescriptionHope.com is a platform facilitating access to existing patient programs. The website is designed to connect low-income patients with drug manufacturer for getting a year-round supply of drugs for $50 monthly fee per medication.
Who is PrescriptionHope.com for?
To qualify for a subscription at PrescriptionHope.com, you need to meet the following criteria: be considered a low-income citizen and have a condition that requires you to spend more than $50 on mediactions every month. PrescriptionHope.com can be used by both insured and uninsured individuals.
PrescriptionHope.com Facts
Domain details
The domain was registered in 2006, and is due to expire in 2023. The registration country is U.S., Florida.
Business information
The company is registered in the same place as the domain, which is Stuart, Florida. This is always a good sign for an e-commerce pharmacy store. A quick Google Maps check confirms that the information is accurate.
Regulatory Compliance
PrescriptionHope.com is not a pharmacy business, but a platform for finding patient assistance programs, and as such it does not require licensing.
| | |
| --- | --- |
| ScamAdviser | Legitimate |
| NABP | No license |
| CIPA, Canadian International Pharmacy Association | No license |
| PharmacyChecker | Legitimate |
| LegitScript | No Information |
| HHS, U.S. Department of Health & Human Services | No Information |
| DEA, Drug Enforcement Administration | No Information |
| EMA, European Medicines Agency | No Information |
| PGEU GPUE, Pharmaceutical Group of European Union | No Information |
Prescription Policy
You need to submit your prescription in case you are applying for refills of a prescription medication. Since the company runs a legitimate pharmacy business, there is no possibility of ordering a prescription drug without a valid document signed by your doctor.
Product Range & Quality
Drug categories
PrescriptionHope.com offers drugs for every condition from a large number of manufacturers. All in all, there are more than 1,500 names of prescription drugs on their formulary.
Country of drug origin
The service provides medications from ca 150 different drug manufacturers based in the U.S.
Medication counterfeiting
Not reported; items only directly from FDA certified drug manufacturers.
Risk of poisoning
Not identified
Price Range & Discounts
Pricing policy
The idea driving PrescriptionHope.com is making every drug accessible year-round for a fixed fee of $50 per month for each drug. The company verifies your eligibility with the manufacturer, and once you are approved, you will start receiving your refills monthly directly from the pharmaceutical company producing the drug. You will be charge the service fee following the approval of your candidacy.
PrescriptionHope.com discount coupon
There are no additional discounts offered in the program.
PrescriptionHope.com free samples
Free samples are not added to the patient assistance program.
Store Usability & Features
Technically speaking, PrescriptionHope.com is not a pharmacy, so there are no e-store features embedded in the website. The functionality of the website is focused on processing customer applications, and managing prescriptions and refills.
Payment Methods & Safety
Accepted payment methods
You can pay the service fees with a credit card. No other payment methods are available.
Checkout web security
The checkout is secured by 256-bit encryption and McAfee Secure.
Delivery Methods & Quality
Current shipping options
Since PrescriptionHope.com is not a drugstore, they do not dispense or ship medications. Your drugs will be shipped to you directly from the manufacturer. As a rule, the shipping fees do not apply.
International shipping
PrescriptionHope.com only works with the U.S. based customers.
Customer Service
Customer support quality
According to Better Business Bureau, the company's quality and speed of response to customers' queries is up to snuff.
Contact options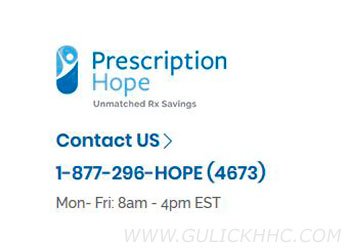 There is a landline toll-free phone number you can use for getting in touch with PrescriptionHope.com (Monday to Friday between 8.00 and 16.00 EST), or you can send them a letter, an email or a fax.
Data safety & antispam
The quality of customer data protection seems to be decent.
Promises Vs. Reality
Given that you qualify for their patient assistance program, the promises made by the company are quite true: they will help you save thousands of dollars per year if you have to pay out of pocket for your medications. However, not everyone qualifies – requirements differ from one manufacturer to another, too.
Real Customer PrescriptionHope.com Reviews & Experiences
Happy customers
Most of the positive buzz generated around the service focuses on the savings assisted by the program. Many point out the ease of use and effectiveness of the services.
PrescriptionHope.com customer complaints
According to TrustPilot, the complaints that unhappy customers submit have to do with being charged before the approval comes through, or being rejected. The issues all are attended to by customer support rather promptly.
Final Opinion
PrescriptionHope.com serves its purpose of providing great assistance for the U.S. patients who have to pay out of their pockets for chronically taken meds. It will not suit everyone: you will have to prove that your income level is beyond a certain limit. But once you do, you will be enrolled into a manufacturer-led program and receive your pills for free, all for a fee of $50 per month per drug.
| Pros | Cons |
| --- | --- |
| Measurable savings every month | Limiting requirements for approval |
| Legitimate pharmacy-assistance | Offers only by U.S. manufacturers |
| Brand medications for free | No generic drugs covered |
| Free delivery for most plans | |
| Drugs directly from manufacturers | |
| All patient assistance programs on one site | |